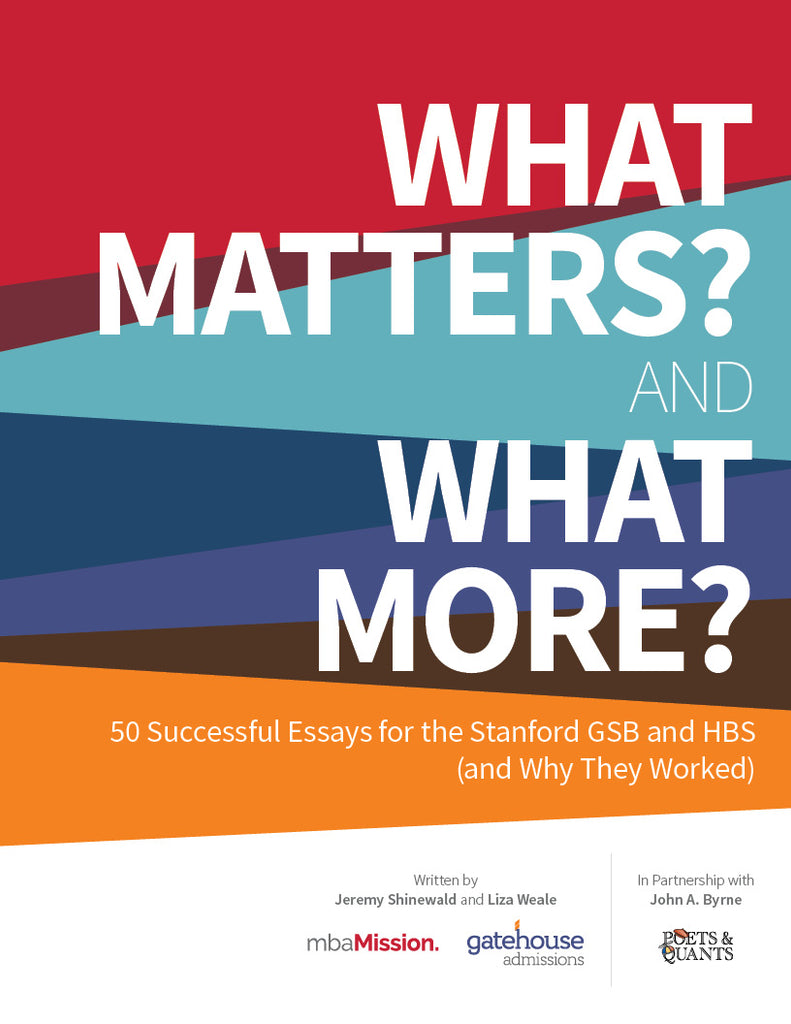 "What Matters?" and "What More?": 50 Successful Essays for the Stanford GSB and HBS (and Why They Worked)
For a limited time, download your copy of "What Matters?" and "What More?" for only $24 (60% off!)!
The application essay questions for the world's two most competitive MBA programs—Harvard Business School (HBS) and the Stanford Graduate School of Business (GSB)—are notoriously challenging.
Having helped hundreds of candidates gain acceptance to these elite business schools, Jeremy Shinewald of mbaMission and Liza Weale of Gatehouse Admissions, in partnership with Poets&Quants, have pooled their collective experience to now help you. Using a carefully curated collection of 50 successful essays for HBS and the GSB, they have broken down why each one worked and created a truly essential guide to crafting essays for these schools more confidently and effectively.
"What Matters?" and "What More?": 50 Successful Essays for the Stanford GSB and HBS (and Why They Worked) is a 190-page digital book offering the following:
Actual HBS and Stanford GSB essays, submitted by past candidates who were ultimately admitted, along with expert commentary on the strengths (and sometimes weaknesses!) of each one
Ten pairs of essays for HBS and the GSB, showing how the same candidate approached the two schools' differing essay prompts
Two essays by reapplicants, highlighting useful tactics for writing these essays the second time around
Overviews and examples of four different approaches you can take to composing your essays: thematic, inflection points, single anecdote, and mosaic
Best practices for each program's essay question, such as how to handle word counts and what not to include in your essays
Click here to read an excerpt from the book, including one HBS essay sample and one GSB essay sample with our expert commentary.
Why Are the HBS and Stanford GSB Essay Questions So Challenging?
Currently, the acceptance rate for Harvard Business School is 10%, and the Stanford Graduate School of Business' acceptance rate is a mere 6%. This means that getting into either of these schools is incredibly competitive. Your undergraduate experience, performance on a standardized test, and work history are just a few of the many elements the admissions committees consider. Your admissions essays are where you can truly stand out and differentiate yourself among a pool of superb applicants.
For at least two decades, the admissions committee at the Stanford Graduate School of Business has been challenging applicants with the straightforward essay question "What matters most to you, and why?" Candidates face this fairly simple prompt with seemingly limitless possible responses and a 650-word limit. 
In recent years, Harvard Business School's admissions committee has adopted a similar approach, asking applicants some version of the following: "As we review your application, what more would you like us to know as we consider your candidacy for the Harvard Business School MBA program?" As of the 2022–2023 application season, candidates have a little less leeway than in years past with respect to the length of their essay, now that the school has stipulated a 900-word limit.
The HBS and Stanford GSB essay prompts are both deceptively simple and intimidatingly broad. Yet the beauty of these essay questions is that you are in control! You are a unique individual, and this is your chance to show HBS and the GSB who you genuinely are and why you are an applicant worthy of admittance. The admissions committees are not seeking a certain type of candidate. Quite the opposite, actually! They want to get to know the real you, so through your essays, you want to forge a meaningful connection with the schools, presenting yourself sincerely and honestly.
How Can Our Guide Help You with Your GSB or HBS Essay?
The widely varying essays in this guide prove that no one definitive path to success exists. Some of the essays are pragmatic and straightforward, while others are more sentimental and incredibly creative. They were written by a diverse group of applicants representing all walks of life and a variety of industries, functions, and geographies. These successful candidates prove that the HBS and GSB admissions committees are open to a vast range of topics, experiences, styles, and voices.
Our guide serves as a critical resource in helping you determine the following:
How formal (or informal!) should I be in my tone and writing style?
How should I balance professional versus personal stories?
How can I prevent my professional stories from sounding like a resume rehash?
How should I change my strategy for the essays if I am applying to both HBS and the GSB?
How do I make myself "likable" to the admissions committees of HBS and the GSB?
We are hopeful that the guidance, samples, and critiques in "What Matters?" and "What More?" will help you identify the best approach for sharing your strongest stories with these programs—and position yourself for success!
If you plan to apply to Harvard Business School or the Stanford GSB, this book is a must-have resource!