Harvard Business School:
Everything You Need to Know
Few schools have the pedigree and worldwide recognition of Harvard Business School (HBS). As one of the top-ranked business schools in the United States, HBS is the number one choice of many prospective MBA candidates—indeed, the school receives up to 10,000 applications each year. However, earning a spot in this prestigious program requires time, effort, and preparation. If you are setting your sights on HBS, mbaMission offers several resources and services to help you in your journey!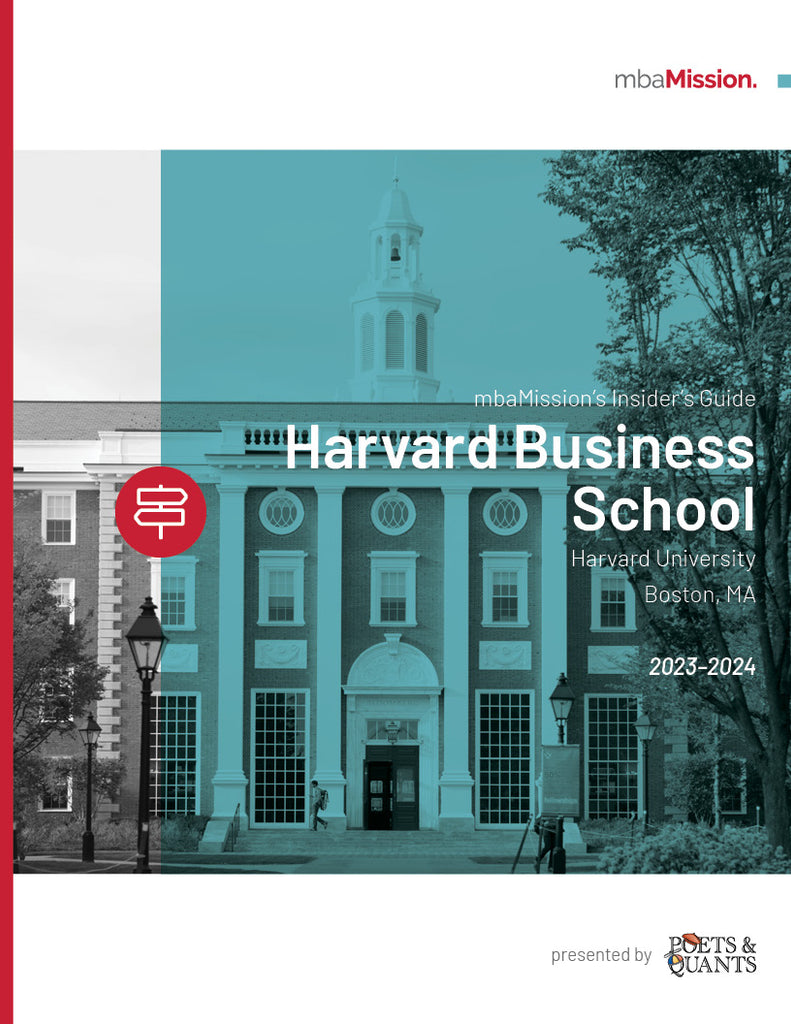 Harvard Business School Insider's Guide
Our HBS Insider's Guide takes an in-depth look at life as a Harvard Business School student. Informed by firsthand insight from students, alumni, program representatives, and admissions officers, this robust guide offers detailed descriptions of the school's location, class size, curriculum, teaching methods, facilities, alumni base/involvement, and rankings, as well as courses, faculty, and clubs related to the most common career areas for MBA graduates. Learn more about HBS's special January term (J-term), formal Learning Teams, focus on the case method, Field Immersion Experiences for Leadership Development, Dean Nitin Nohria, Arthur Rock Center for Entrepreneurship, Global Immersion experiences, and opportunities to bond with classmates via the HBS Show, Newport Ball, Section Olympics, and Thank Goodness It's Friday!
Harvard Business School Essay Tips, 2023-2024
Applicants to Harvard Business School (HBS) have incredible leeway in their essay (with respect to both topic and length) to write about whatever they believe is most important for the admissions committee to know about them, beyond what is conveyed via the other elements of their application. Given that the program's prompt has not changed in years, we assume that the program's admissions committee must feel confident that this approach and question are effective at eliciting the kind of information they find valuable when evaluating candidates. Our analysis of the prompt and advice on the best way to approach it likewise remain largely unchanged. If you would like even more targeted guidance on approaching and writing your HBS essay, along with annotated essays from actual past applicants, check out our book "What Matters?" and "What More?": 50 Successful Essays for the Stanford GSB and HBS (and Why They Worked).
"As we review your application, what more would you like us to know as we consider your candidacy for the Harvard Business School MBA Program?" (900 word limit)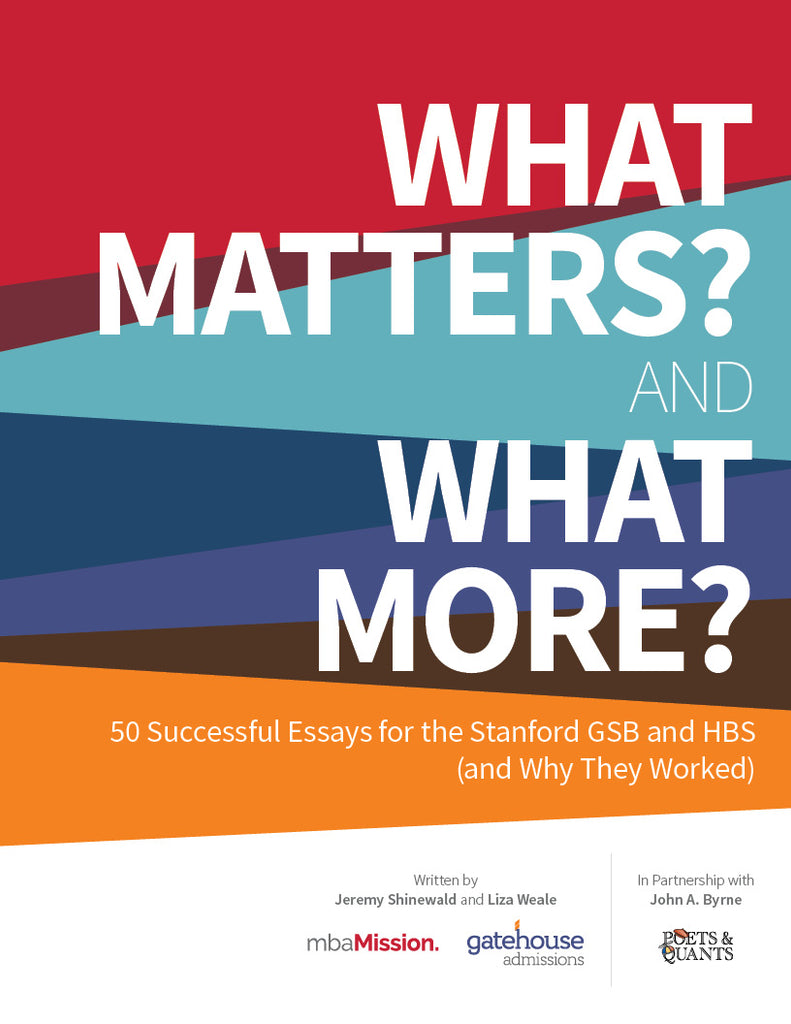 "What Matters?" and "What More?": 50 Successful Essays for the Stanford GSB and HBS (and Why They Worked)
The application essay questions for the world's two most competitive MBA programs—Harvard Business School and the Stanford Graduate School of Business (GSB)—are notoriously challenging. Even if these schools had more generous acceptance rates (currently 10% and 6%, respectively), their essay prompts would still vex candidates with both their simplicity and their open-ended nature. Yet therein lies the beauty of these essay questions—you are in control! You are a unique individual, and this is your chance to show HBS and the GSB who you really are and why you are an applicant worthy of admittance.
Having helped hundreds of candidates gain acceptance to these programs, Jeremy Shinewald of mbaMission and Liza Weale of Gatehouse Admissions, in partnership with Poets&Quants, have pooled their collective experience to now help you. Using a carefully curated collection of 50 successful essays to HBS and the GSB, they have broken down why each one worked and created a truly essential guide to crafting essays for these schools more confidently and effectively.
"What Matters?" and "What More?": 50 Successful Essays for the Stanford GSB and HBS (and Why They Worked) is a 190-page digital book offering the following:
Actual HBS and Stanford GSB essays, submitted by past candidates who were ultimately admitted, along with expert commentary on the strengths (and sometimes weaknesses!) of each one
Ten "pairs" of essays for HBS and the GSB, showing how the same candidate approached the two schools' differing essay prompts
Two essays by reapplicants, highlighting useful tactics for writing these essays the second time around
Overviews and examples of four different approaches you can take to composing your essays: thematic, inflection points, single anecdote, and mosaic
Best practices for each program's essay question, such as how to handle the prompts' vastly different word counts and what not to include in your essays
The widely varying essays in this guide prove that no one definitive path to success exists. On the contrary, the schools are clearly open to a vast range of topics, experiences, styles, and voices. The guidance, samples, and critiques in "What Matters?" and "What More?" will help you find the best approach for sharing your strongest stories with these programs—and position yourself for success! If you plan to apply to Harvard Business School or the Stanford GSB, this book is a must-have resource!
HBS Interview Guide
Drawing on our extensive communications with HBS MBA students, admissions officers, and alumni, as well as insights from our clients who have interviewed at the school, we at mbaMission have developed the Harvard Business School interview guide to help you prepare for one of the more stressful and intimidating aspects of the business school application process. Our free interview guide shares details on how HBS evaluates applicants during interviews and what the school's interviewers hope to learn. The guide also includes a list of HBS's most common interview questions and themes, as well as our tips on how to prepare for and respond to these questions.
HBS Intensive Interview Simulation
mbaMission's Harvard Business School Intensive Interview Simulation allows prospective candidates to attend a mock interview that closely models the actual HBS interview that you will experience should you be invited to interview with the school. As a recreation of an actual HBS interview, our intensive simulation offers candidates the chance to spot weaknesses in their interview conduct, reflect on sample questions, and examine how they perform under the pressure of the situation.
Unlike our mock interviews, the Intensive Interview Simulation consists of several in-depth interview sessions, each of which includes personalized feedback and extracurricular tasks to help you improve your interview skills. You can choose how many sessions you would like to have, and you will work one-on-one with Devi Vallabhaneni, a veteran interviewer who has interviewed hundreds of HBS hopefuls throughout her career. Devi's helpful feedback and recommendations will focus on the areas where you need the most improvement. Devi also provides homework so you can practice your interviewing skills and find the best ways to articulate your answers. This package is the ideal way to get intensive interview training that gives you a leg up on other HBS applicants.
Harvard Business School Class Profile (Class of 2024)
| | |
| --- | --- |
| Applications | 8,264 |
| Enrollment | 1,015 |
| Median GMAT | 730 |
| Verbal Range | 29–51 |
| Quantitative Range | 34–51 |
| GMAT Range (Total) | 540–790 |
| Percentage of Class That Submitted GMAT Scores | 74% |
| Median GRE Verbal | 163 |
| Median GRE Quantitative | 163 |
| GRE Verbal Range | 147–170 |
| GRE Quantitative Range | 150–170 |
| Percentage of Class That Submitted GRE Scores | 30% |
| Average GPA | 3.70 |
| Average Years of Work Experience | 5.0 |
| Women | 46% |
| U.S. Minorities (includes permanent residents) | 48% |
| International Representation | 38% |
HBS Business School Rankings
Harvard Business School consistently ranks in the top ten, if not the top five, of most popular business school rankings, and is arguably the most prestigious business school in the world. It often vies with the Stanford Graduate School of Business (GSB) and the Wharton School of the University of Pennsylvania for the top spot in terms of stature.
In the 2022–2023 Bloomberg Businessweek rankings, HBS was in second place in a tie with Harvard Business School. HBS was ranked second domestically and fourth in the Financial Times' 2023 rankings, tied with Stanford Graduate School of Business.
In U.S. News & World Report's 2023–2024 assessment of American business schools, HBS was in fifth place. And in the following U.S. News specialty rankings, the school placed among the top five: management (1); international (2); nonprofit (2); entrepreneurship (4).
Harvard Business School Deadlines (2023–2024 Application Season)
Round 1
September 6, 2023
Round 1 Decisions
December 6, 2023
Round 2
January 3, 2024
Round 2 Decisions
March 27, 2024
HBS Mock Interview Packages
Mock Interview
In several ways, our HBS mock interview is like a condensed version of our HBS Intensive Interview Simulation. The mock interview allows you to work with an admissions expert from our team of consultants who knows the ins and outs of the HBS interview style and will ask personalized questions based on your application. This gives you a feel for the actual interview without the accompanying stress or pressure. The mock interview is conducted in an individual session, during which you will receive focused feedback and recommendations. This offering is a great alternative to the multi-session approach of our HBS Intensive Interview Simulation.
Post-Interview Reflection Support
Harvard Business School requests that all interviewed applicants submit a written Post-Interview Reflection within 24 hours of their interview. Naturally, the combination of the quick turnaround and the pressure of the interview process makes this a difficult task for many candidates. Since you are not supposed to write anything in advance, you must have a strategy in place to help you compose your reflection. Through our Post-Interview Reflection Support, we will offer guided feedback to make your content stronger and more impactful—though we will not directly edit your writing. This service will help you write with confidence and support you in your goal of leaving a positive impression on the admissions committee.